Games at GNW 2015, Photo by TH Lady Ceara Shionnach, June 2015.
Every year Great Northern War happens in Brisbane, Australia.
http://history.lochac.sca.org/event/gnw/2015
This page was inspired by being asked to write down and document all the different games we play at G.N.W. for others to enjoy and to run at this and other future events.
Every year there are Games or 'Shenanigans' as some of my lovely friends like to call them. These happen both before and after the children have gone to bed. In fact, it wouldn't be the same without the kids playing them!  However, as we learn every year, drunk adults invent amusing and funny games, which are then appropriated the following year for the 'shenanigans' are shared by all.
The Games traditionally take place in the 'ring of fire' on the Saturday and Sunday after the feasts (weather permitting.)
It is an actual ring of fire that is set up with gas torches on the ground and on poles, framing the list field for the fire tourney that takes place on the Friday night. Due to this, kicking a football doesn't really work in the evening, so all plans of village football go due to that. I shall however include that in the games below, as it is always a favorite and is played at other times during the event.
This year (2015), I had Children running up to me on the Friday night asking if we were playing the 'sheep stealing game' on the Saturday.  The parent's also came up and said thank you after doing the games both nights, as apparently the children look forward to it each year, and what they really look forward to is versing the adults!
I thoroughly recommend any of the games below, as they are fun and highly amusing to watch from the sidelines. Safety is paramount as I have said below, however with a good eye and constant marshaling, most issues can be avoided.
As with everything, it is a group effort. Each year it wouldn't have happened without the magnanimous lending of the boffers, collapsible soccer goals and sheep from Sir Lorcan, the amazing energy of the Adult side (usually with such folk as Dutchess Liadan, Count Henri, Baron Shawn and Master Yevan, Mark, to name a few) and the boundless energy of the kids!
THE GAMES:
CYCLOPS'S Vs HUMANS (inspired by bull-rush and a few other things AKA – The Sheep Stealing Game)
In 2014 I was asked to make up specific 'Greek games'. We had done wrestling and a few other things in past years, and I wanted a team event. Reading through the Odyssey, I was struck by the story of the Cyclops's sheep in the cave, that the humans stole.  The game wasn't meant to have boffers, and we had one sheep originally, but children, (and large children i.e. mainly Count Henri) changed that!
Honestly – watching this game is one of the funniest things I have witnessed, and it never gets old.
The Game:
Two teams either side. Even, but usually ending up Kids vs Adults (although both titles are loose…adults usually beg to be on the children's side…)
Two goals either end of the field.
3 Sheep in play (we use soft toys and the targets from the archery)
2 Resurrection points – usually the middle entrance to the list field on both outer sides.
Both teams need to get all 3 sheep to their goal and keep them there.
The 3 sheep start behind one of the teams (traditionally the Cyclops's)
Boffers are allowed. Usual rules apply – no targeting the joints, no head shots, no hitting from behind.
When hit once by a boffer, the player must drop what they are doing – and any sheep they have – and go resurrect at the designated point.
The sheep can be thrown, hit, kicked, carried down the field.
They can be stolen from the goal if the other team is silly enough to leave them unguarded.
The game is won once ALL three sheep are in the goal.
(Strategy is sometimes a good thing….just saying…)
NOTE: The first year we played this there were no collapsible soccer goals, the teams just had to get the sheep down the other end.
WHEELIE BIN CHARIOTS:
When this was first thought of, I had no idea I would show up in another country and be faced with wheelie bins that had had their backs cut off and metal cross bars welded onto them! It was amazing, and oh so scary watching them being played with for the first time….but we made sure we took safety precautions, and the 'horses' were instructed to not go too fast.
The Games are quite simple – anything you do with a normal chariot, we do with these.
HRH Sir Steffan Glaube in boffer jousting. Photo by TH Lady Ceara Shionnach, June 2015
CHARIOT RACING:
one rider on each side
Two 'horses' on each side
one barrier
Whoever gets round the fastest wins (keeping in mind that safety is paramount)
In 2015 the 'drivers' were given pool noodles to whip their steeds into shape (…..they might have also tried to hit the other driver on their way past…..but that wouldn't be chivalric…)
CHARIOT JOUSTING
one rider on each side
Two 'horses' on each side
Pool noodles on sticks or just pool noodles.
One barrier
In 2014 Sir Lorcan made us pool noodles on sticks which were amazing as lances. We used kids 'youth combat' helmets and heavy helms just in case (safety first….). By request we saw the return of the chariots, 2015 saw just pool noodles but still as much fun!
POOL NOODLE HOCKEY:
Inspired by Countess Beatrice's idea for a game at festival which came from a Mongolian horse hockey game played with a head……(a teddy bear in our case…which didn't get played in the end at Rowany, due to pool noodle disintegration), this game debuted in 2015 at GNW. It was reported to be fun for participant's but 'awful' for spectators – try it at your own peril.
NOTE: this one can get quite like a scrum for the toy….watch the little ones in this, it can get rough.
THE GAME:
Two teams
Every player has a pool noodle.
Stuffed toy (rip its head off if you want to be 'authentic' with the Mongolian game)
Two goals (quite close together – as the pool noodles don't get the toy very far….)
Each team must use only the pool noodle to get the toy to their goal.
The Noodle can not be used as a weapon.
Any action with the Noodle can be taken…..(it is always amazing to see people not just hit the toy but scoop it up with a bent noodle)
The game is over when the toy is in a goal.
DUCK DUCK NOODLE GOOSE
A game of Duck Duck Noodle. Photo by TH Lady Ceara Shionnach, June 2015.
Exactly like Duck Duck Goose, but with pool noodles. This was 'invented' by Duchess Liadan leading a group of adults into the play area and wanting more shenanigans about an hour after we had shut the ring of fire down for the Sunday night. We turned the gas back on and let the fun begin, and oh was it fun!
THE GAME:
Participants sit in a circle on their bottoms with their pool noodle each.
Some one starts by standing up with their noodle and they go around the circle saying duck to the people they don't want to challenge, and goose to the person that they want to chase them.
When they say goose, that nominated person has to get up and chase the person around the circle and hit them with their pool noodle.
If the person is hit – they go to the inner circle, sit down and they are out of play. Everyone sitting on the outside gets a free poke with their noodle of the person that is now out of play.
If the person is not hit and makes it back before the other, they are now safe and the original person goes around the circle saying duck or goose again.
Repeat until you are down to the last two.
DODGE NOODLE
Exactly like dodge ball – but with pool noodles. This was the other of Duchess Liadan's games, it evolved from throwing the pool noodles at each other and needing something else to play, dodge ball was suggested, but we didn't have enough sheep to throw, so the pool noodles were suggested and thus a beautiful game was born.
Photo by TH Lady Ceara Shionnach, June 2015
The tag line for this is "if you an dodge a wrench, you can dodge a pool noodle"……
THE GAME:
Place a few pool noodles on the ground as a dividing line.
give one team noodles to throw.
They throw.
Once the noodles are on the other side – they are fair game for the other team to throw back.
Once you are hit with a noodle – you are out.
Keep playing till one side has no more players.
VILLAGE FOOTBALL:
There are variations of this played all over the Kingdoms and in other re-enactment groups. It can be quite violent, but much fun is had.
Each year at St. Sebastian's in Cluain, Cresent Isles (Rotorua, New Zealand), a brilliant Archery event run by Master Edward Braithwaite and we play this game. Oddlington and Piddlington are the two teams we use, however, feel free to make up your own names.
THE GAME:
Two teams
One football
Two goals either end
Both teams have to get their ball to their goal to win, you can kick, throw, basically do anything – as long as you don't touch the ball for more than 3 seconds….
(Note: it can get dangerous and rough and inventive)
PAPER GAMES  –  OWL BINGO! GAME:
This was originally requested by in 2015 and brainstormed initially with HRH, Steffan Glaube for GNW.
TH Lady Ceara Shionnach then had many good suggestions to add to the list of tasks already in existence from myself and Sir Steffan and then, a game was put to press.
As Ceara wrote on the Lochac GNW history page …"To encourage silly fun, TH Lady Christine Bess Duvaunt devised an Owl Bingo game that was located in the back of the event booklet…"
Feel free to use it or any part of it for your own 'silly fun'
The idea was to complete as many activities as possible, getting someone who observed you completing the task to sign the corresponding cell in the owl grid.
Activities included:
1 – DO A LAP OF THE LIST FIELD HOPPING, WEARING BELLS (bells on string will be hanging from the list field for use in this activity)
2 – OUT OF NOWHERE, DO A DEATH SCENE AS DRAMATICALLY AS POSSIBLE
3 – FIND 2 OTHERS AND DO THE CHICKEN DANCE BEHIND A PELICAN
4 – FIND A HERALD AND CHALLENGE THEM TO A PUN-OFF
5 – DO A PERFORMANCE OF SOME KIND TO ENTERTAIN THE POPULACE (SOLO OR GROUP) WHILST IN THE LUNCH QUEUE
6 – WRITE A POEM FOR SOMEONE YOU KNOW AT THE EVENT AND PERFORM IT TO THEM
7 – CLEAN SOMEONES DISHES AFTER LUNCH
8 – CLEAN SOMEONE ELSE/S DISHES AFTER FEAST
9 – FIND 3 OTHERS AND DO A 5 SECOND SILLY DANCE BEHIND A LAUREL
10 – TRY TO PURCHASE A CUP OF UNICORN JUICE FROM THE JOLLY DUKE TAVERN
11 – BRING WATER TO SOMEONE ON THE WAR FIELD
12 – FIND A PERSON FROM THE CRESCENT ISLES AND INTRODUCE YOURSELF. IF YOU'RE FROM THE CRESCENT ISLES, FIND A PERSON FROM TERRA ROSA AND INTRODUCE YOURSELF. (Crescent Isles = NZ, Terra Rosa = Australia)
13 – TRY TO DO AN ACCENT FROM THE CRESCENT ISLES TO A PERSON FROM TERRA ROSA, IF YOU'RE FROM THE CRESCENT ISLES, TRY TO DO AN ACCENT TO SOMEONE FROM TERRA ROSA. (Crescent Isles = NZ, Terra Rosa = Australia)
14 – DO A SPONTANEOUS DANCE ON/NEAR THE WAR FIELD WITH ONE OTHER FOR 5 SECONDS
15 – SING OR HUM THE TUNE OF GREENSLEEVES WHILE SKIPPING AND DISTRIBUTING FOLIAGE IN FRONT OF SOMEONE AS THEY WALK (flower girl at a wedding sort of thing)
16 – FIND A REDHEAD FROM POLITARCHOPOLIS AND INTRODUCE YOURSELF
17 – MAKE AN OWL MASK FROM MATERIALS FOUND ON SITE. WEAR IT FOR A MINIMUM OF 30 MINUTES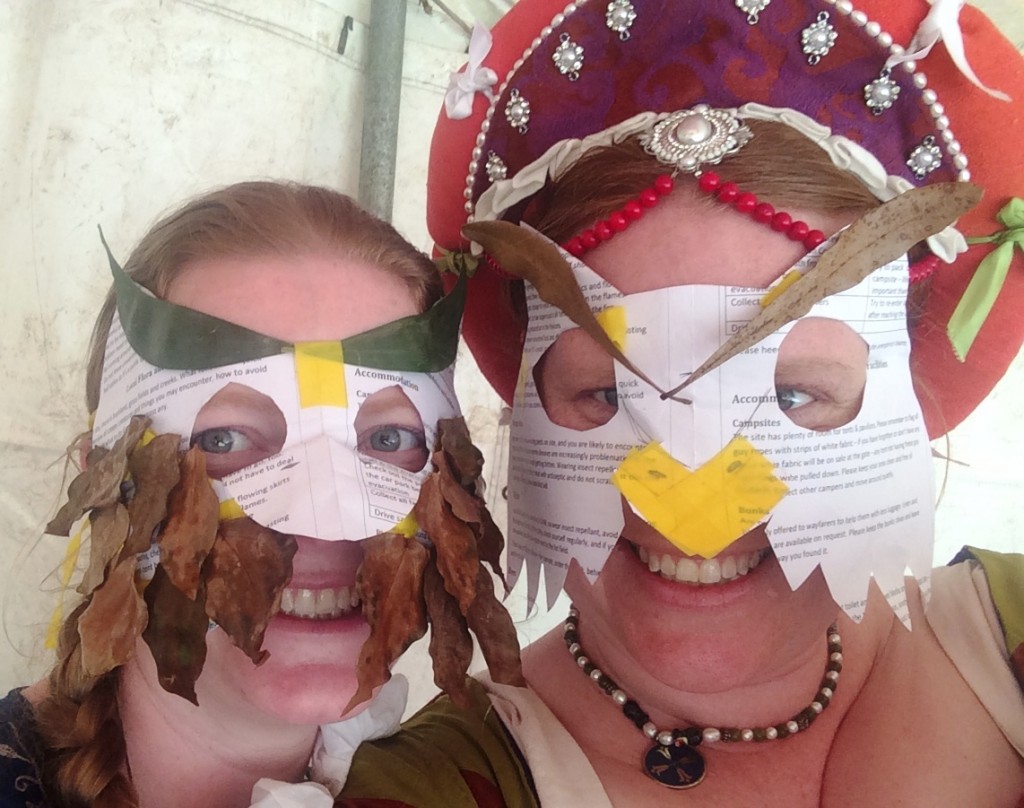 18 – MAKE/OFFER A DRINK TO SOMEONE
19 – TELL A REALLY BAD 'DAD' JOKE TO SOMEONE
20 – TAKE PART IN A GAME DURING THE EVENT
21 – OFFER A KNIGHT SOME DUCT TAPE
22 – ASK A KNIGHT TO SAY 'NI'
23 – IN A CROWDED PLACE, PRETEND YOU'RE A MIME STUCK IN AN INVISIBLE BOX FOR AT LEAST 30 SECONDS
24 – TAKE A SELFIE WITH ONE OR MORE FRIENDS DOING ONE OF THE TASKS ON THIS LIST
25 – POINT AT SOMEONE AND SHOUT "YOU'RE ONE OF THEM, RUN!" RUN, PRETEND TO TRIP, AND CRAWL AWAY SLOWLY.
TH Lady Ceara was the winner of this task in 2015 at GNW, managing to sign off ALL the tasks put before her!